Have you unknowingly signed up for a CCA (Consumer Credit Agreement) with a solicitor as part of a legal claim on your behalf? If so, you are personally responsible for paying all legal fees. Read this guide to discover how you can potentially claim against the solicitor.
What are CCA Claims?
ClaimExperts.co.uk have a panel of solicitors who are tackling law firms who sign have signed clients up to a Credit Consumer Agreement with no details or understanding of exactly what it means. In the UK, law firms are chasing clients for thousands in legal fees, leaving clients confused, stressed, and angry that this was ever allowed to happen.
 These law firms will take a claim on a No Win, No Fee basis. The client will then unknowingly sign up for a Consumer Credit Agreement, without realising that if the claim fails the finance company offering the CCA can pursue them for the loan and legal fees, even with the No Win, No Fee guarantee from the solicitor.
Find out today if the ClaimExperts.co.uk panel of experts can help fight back against the law firm or finance company who are chasing you for thousands of pounds. Let us help.
What is a Consumer Credit Agreement?
A consumer credit agreement is also known as a CCA. It is essentially an agreement under which credit is extended to an individual. In a nutshell, if you are borrowing money, you are getting credit.
The lender should typically provide you with a credit agreement, which spells out the details of the deal, including your rights.
What are the most common types of CCA claims?
All loan and credit agreements must be set out in writing by the lender – including how much a borrower has to pay. If the terms have not been set out correctly under the credit agreement, or you were unaware of the agreement altogether, it may be possible for a consumer to challenge the legality of such agreement.
We see cases where people have signed Consumer Credit Agreements to make a financial claim in relation to:
Cavity wall insulation claims
Housing disrepair claims
Home loft cases
Mis-sold mortgages
Japanese Knotweed claims
Mis-sold solar panels
Many people believe they are signing up for a No Win, No Fee agreement when agreeing to pursue these claims with law firms.
How has the CCA been mis-represented?
A number of solicitors, claims management companies and marketing agencies have been promoting potential legal claims for consumers clearly stating there would be no fees to pay.
Part of the documents they have been convinced to sign, contained a Consumer Credit Agreement and small print that stated the consumer would be accepting finance to cover all fees and disbursements involved in the legal action.
The claims in question have failed to progress and now the lender who paid the finance to deal with the claim is taking action against the consumer to re-coup the finance plus other costs.
ClaimExperts.co.uk's Case Study - Martyn's Story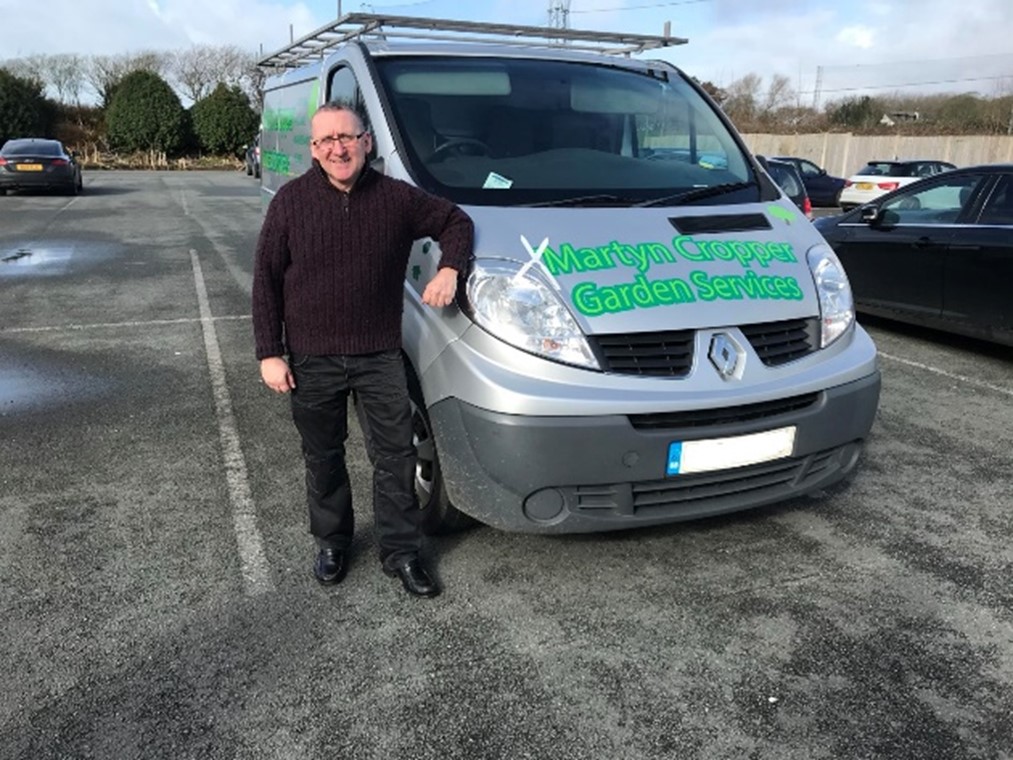 Hi I'm Martyn. I'm a full time landscape gardener by trade and over the last 19 years I've worked day and night to build up my business and eventually buy the home I live in.
My dad gave me all the tools I needed to start gardening. I started the business with just £500 in the bank I now have a very good client base.
About 3 years ago all of my life's work and home came at risk from being stolen from me!
It all started when I was approached by a solicitor to make a claim for a badly installed cavity wall insulation on my home.
The insulation actually created damp within my home and caused a lot of damage. I was very angry and wanted the problems resolved.
I eventually agreed to make the claim and I signed up for what I believed to be a 'no win, no fee' agreement with the solicitor.
After months of delays I started to get worried about the claim. And then out of the blue the same solicitor I instructed to pursue the legal action started pursuing me for £35,000 in legal fees! I felt sick when I first found out. I couldn't believe what was happening.
I was told that everything I owned would be taken from me unless I paid the legal fees associated with the cavity wall insulation claim.
Lots of negative thoughts went through my mind at the time. I beat myself up for months and blamed myself for putting my business and the family home at risk from being taken from us.
With the help of a friend and other contacts I fought back and successfully defended this legal action against me.
I am now seeking compensation for damages.
This whole matter has made me determined to not let any other victims suffer like my family and I have.
My research suggests this is a £500 million scandal waiting to explode. There's lots of victims out there who do not even know what they have signed up and what is coming their way as a consequence!
I needed to get the message out there and with the help of friends I have been able to put this amazing website together!
In fact it was friends and family that gave me the strength to fight back in the first place.
During my darkest hours dealing with this mess. I considered suicide. I couldn't see any light at the end of the tunnel!
The dark days are behind me and I am now mentally and physically strong to take on this fight. In fact I am feeling that strong I have been convinced to get into a boxing ring to raise money for a charity extremely close to my heart,
I am therefore in training for a white collar boxing event for 'Suicide Awareness' for a charity called Lancashire Minds. At 49 years of age, I can't believe I'm getting into a boxing ring twice. First time for this Charity and the second time to take on the legal institutions for CCA mis-representation! The charity fight should hopefully be a breeze.
The legal fight however is a true David and Goliath fight!
If you are a victim of CCA mis-representation don't suffer in silence! Complete the form on this site and I will show you how to fight back. We will stand together, and we will strive to win!
I have also set up a group on Facebook and I have lots of interesting things going on which will get the word out there to help fellow victims.
How Can We Help?
As you can see from Martyn's story, disputes with Consumer Credit Agreements can cause significant stress and anxiety to those who are affected. The worry and fear or losing everything that Martyn built up lead him to the edge of total collapse.
This is why ClaimExperts.co.uk want to help people like Martyn. Our panel were thankfully able to stop the firm's attempts to take in excess of £30,000 in nonsense fees from Martyn. They want to help anyone who finds themselves in the same predicament.
Many consumers do not actually realise they have signed up to a consumer credit agreement. We urge all mortgage, knotweed, home insulation and housing disrepair claimants to check the legal documents you have signed up to.
If you feel you have a case, please reach out to us and join our panel's action group.
Together our panel of experts can right this wrong and get compensation for ALL victims.
Start Your CCA Claim Today
The ClaimExperts.co.uk panel of solicitors have made starting your potential CCA claim easy. Simply fill in your details in our eligibility checker and a member of our expert panel will be back in touch. They offer:
Reclaim £1000's in compensation
No Win, No Fee
Panel of Financial Claim Experts
Fully regulated by the FCA
Free initial review of your case
Ready To Get Started?
ClaimExperts.co.uk provides a free educational service to the public, and connects potential claimants with pre-vetted legal firms operating on our panel. 
Our panel of legal firms all:
Operate on a No-Win, No Fee Basis
Require No Upfront Fees
Are Regulated by either the FCA or SRA
Start your claim today by completing the quick enquiry form below.
We add more legal experts to our panel every week. While our legal panel are not accepting this claim at the moment, this may change.
Sign up for our mailing list below to be kept up to date with this particular claim. 
ClaimExperts.co.uk - We Are Here to Help You
Our mission is to provide comprehensive claim guides for multiple claims, and connect you with expert legal firms.
Our Most Popular Claim Guides
Important Information:
Fairweather Group Ltd t/a ClaimExperts.co.uk do not give legal advice. You do not need to use a claims management company to make a claim. You have the right to use the relevant Ombudsman to seek redress for free. More information on your particular Ombudsman can be found on our Terms & Conditions. You can also seek legal advice elsewhere.
The No Win No Fee Success Fee is based on which expert panel member we refer you to and is payable to them. Our panel currently consists of a number of law firms, which can also be found on our Terms & Conditions. The No Win, No Fee varies, but is generally between 25%- 50%+VAT.
There may be a termination fee if you cancel your claim with a panel member after the cooling-off period. We are paid a referral fee by our panel members for a successful introduction. Fairweather Group Ltd will not charge you for our service.